Meet Mrs Smoothie, she's irresistibly sweet on the eye – but don't confuse her cuteness for softness, she's as hard as they come. When you step out holding her insulated steel body there's no worry of smashing or spilling a drop, she'll keep your liquid cool all day. Fill her up with whatever your kids fancy – smoothies, juice, infused water, milkshakes and more! She also makes a mean iced coffee, coz kids don't get to have all the fun.

Meet Mrs Dusty Pink Smoothie
She's got us all shaken up with her strawberries 'n' cream vibe. If you've fallen for her charms, you best buy more than one coz she won't stay yours for long #truthbomb.

Here's why Mrs Smoothie is so rad:

  • 450ml capacity
  • Insulated double wall stainless steel – she's a tough and cooling.
  • Stainless steel lid + thick straw (it even has a stopper so the straw won't pop out)
  • Bright, fun colours in a scratch and dent resistant finish.
  • Easy to keep clean. She won't hang onto flavours.
  • Fits in a car drinks holder.
  • Cup dimensions: 10cm x 17cm
  • Straw is 24cm in length
  • Gift box dimensions: 10.5cm x 10.5cm x 24.5cm
Customer Reviews
01/08/2021
Jess B.

Australia
Best Buy
Love this cup use everyday. Fill it with my morning smoothie and it keeps it cold for hours.
11/29/2020
Noville M.

Australia
Excellent service and amazing products
Bought the smoothie cups for teacher xmas gifts. Was very surprised at how big they are and how pretty the colours. Delivery was super fast as well and customer service amazing ❤️❤️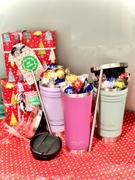 11/28/2020
Siobhan S.

Australia
Get one
A stylish way to take my smoothie on the go